Home Health Care: What to Expect
Once your doctor refers you for home health services, the home health agency will schedule an appointment to come to your home to talk to you about your health and plan of care. Your home health staff (either a nurse or therapist) will talk with your doctor and keep your doctor updated about your progress.
Corpore Sano will contact you after we have received physician referral or after you are discharged and return home. If you do not hear from Corpore Sano Home Health in two days, or if you have a concern, call 734-454-3488.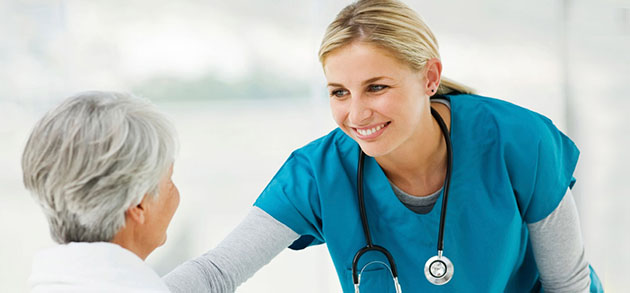 Agency staff will schedule an appointment with you for the initial assessment. This could be a Nurse or a Physical Therapist. The first visit may take up to two hours. The average visit lasts less than an hour. You can expect things like:
Checking your blood pressure, temperature, heart rate and breathing.
Making sure you understand when and how to take your medicines.
Teaching you/caregiver to care for your wound or IV.
Developing an exercise plan to build your strength and improve your balance/walking.
Teaching you how to handle your symptoms.
Coordinating your needs and obtaining orders from your physician.
After the first visit to your home, you/caregiver will actively participate with your nurse, therapist and physician to determine the number of visits needed each week. Home health professionals visit patients an average of 2-3 times a week. You may need more or less. Here are some examples of what the home health staff will monitor during each visit:
Check what you are eating and drinking
Check your weight, blood pressure, temperature, heart rate, and breathing
Check that you are taking your medications and any treatments correctly
Ask if you are having pain
Check your safety in the home
Teach you about your care so you can take care of yourself
Coordinate your care. regularly with you, your doctor, your caregiver, and anyone else who provides care to you
Review your emergency plan indicating when to call your nurse at 734-454-3488 or to call 911.
​
Company Info
Corpore Sano Home Health & Hospice
39475 Ann Arbor Rd
Plymouth, MI 48170
Phone: 734.454.3488
Fax: 734.454.3599
Email: info@corporesanohhc.com